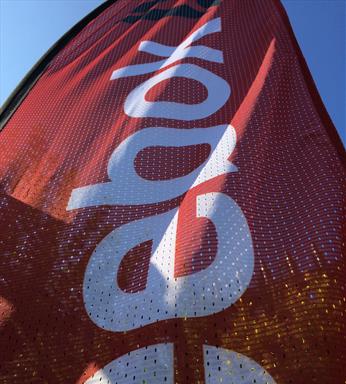 Printed Air Mesh Flags
​Printed Air Mesh Flags.

Flag Designs

As flag makers we prefer all artwork to be sent in an Adobe Illustrator format (Ai, EPS, PDF etc.) although our artwork department will look at any files you wish to submit, all fonts should be converted to outlines or a font file may be required, our artwork department will be happy to help and give any advice if you have any queries.

Colour Requirements

If no pantone or CMYK values are supplied we will print from the file, this may not be the colour expected so please try and state on every order as we cannot be held responsible for the colour if the CMYK or pantone values have not been supplied.

Images

All photo files are required to be a minimum ¼ size at 300 dpi to enable the best possible print quality, however we will print from lower quality files if required.

Flag Proofs

With our express flag printing service we try our best to provide a proof of all the flags we produce prior to dispatch time permitting, on the proof all the finishing is specified i.e. roped and toggled ready to fly, printed double sided to read correct both sides or single sided with mirror image on the back,

Portrait Flags

This type of flag will fly in lighter wind speeds than the traditional landscape flags, we can finish this type of flag to suit any type of flagpole whether it is finished with a rope and toggle or rotating flag arm sleeve. Many businesses have corporate flags made in this style.

Landscape Flags

A landscape flag is in the classic format design with has been used for hundreds of years with the traditional rope and wooden toggle, this style of flag is used by an array of users such as the MOD and local councils.

Bespoke Shape Flags

As flag makers we can manufacture flags to any shape or size enabling you to be as creative as you like which will enable you to grab the attention of any potential customers.