Flagpole Installation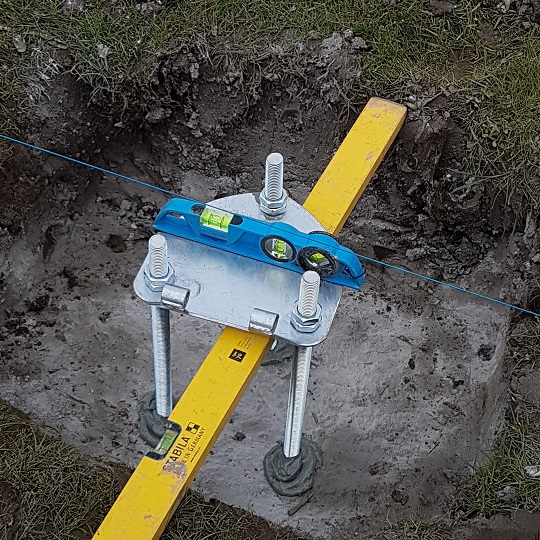 Installation of a ground mounted flagpole.
1 - Ensure the site is safe to work, cone off working area if necessary.
2 - Mark out and dig the foundation.
3 - Once the hole is complete put the bottom part of the hinged base or ground socket in the hole.
4 - Ensure the base is level, use a spirit level.
5 - Pour cement into the hole and set foundation.
6 – Allow the foundation to completely set.
7 - Assemble flagpole and connect the flagpole to the hinged base using the hinge pin.
8 - Once the foundation has set walk the flagpole up to a vertical position, needs two people.
9 - Level flagpole and put the locking nuts on the base.
10 – Attach the flag to the halyard.
11 – Hoist the flag.
Flagpole foundation recommended sizes
Please note this is only a guideline...it may need to be adjusted depending on the ground and location.
4 m flagpole foundation size 300 mm x 300 mm x 500 mm deep.
5 m flagpole foundation size 350 mm x 350 mm x 600 mm deep.
6 m flagpole foundation size 400 mm x 400 mm x 650 mm deep.
7 m flagpole foundation size 450 mm x 450 mm x 700 mm deep.
8 m flagpole foundation size 500 mm x 500 mm x 750 mm deep.
9 m flagpole foundation size 550 mm x 550 mm x 800 mm deep.
10 m flagpole foundation size 600 mm x 600 mm x 900 mm deep.
If you are unsure of the quality of the area that you are installing a flagpole, we strongly recommend you consult a structural engineer.
When installing your new flagpole please be aware of ground level drains, electric cables,
gas pipes, data cables, water supplies, telephone lines, trees, and overhead electric cables.
Buildings - ensure that when the flag is flying it does not rub against a wall.
Other flagpoles - ensure there is enough space between flagpoles for flags to fully fly.
Always have internal halyard systems if there is a high chance of the flags being stolen.
We provide a regular flagpole maintenance service many people have their flagpoles installed and then forget to arrange for regular maintenance. Our poles are manufactured from the highest quality materials but if you want to achieve the longest life span out of your flagpole it is wise to arrange routine maintenance on a regular cycle. We can help you just call one of our sales team on the number above, we as company is not obliged to provide a maintenance and inspection programme however we do offer this service, owners are not obliged to take the maintenance contract offered by Flagpole Express Ltd.
The ultimate responsibility for maintenance and inspection rests with the owner,