Cultural diversity corridor for Central London Girls School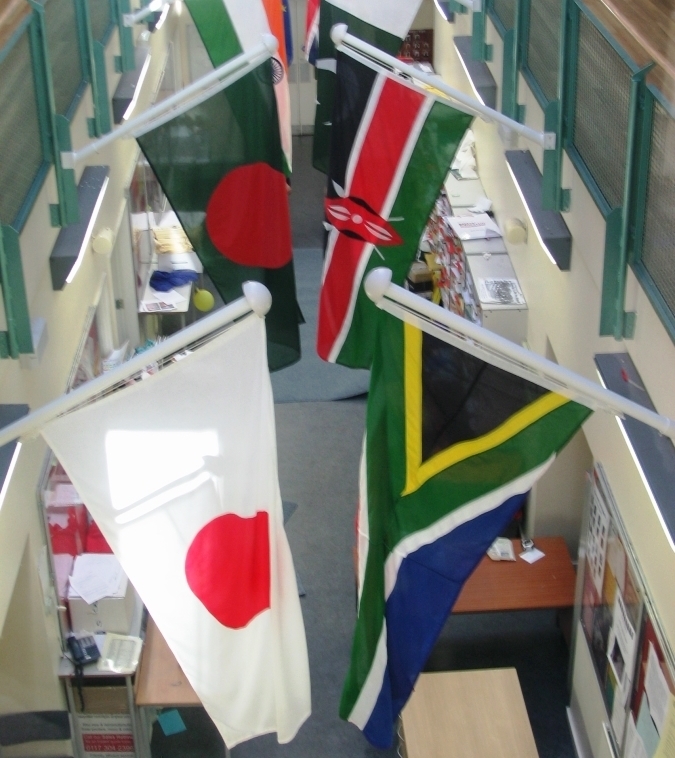 Flagpole Express have transformed one of the corridors of the Cultural diversity corridor for Central London Girls School into a stunning walkway of international flags in line with the schools celebration of promoting multicultural, multi faith education and community cohesion.
Thirteen high quality hand sewn national flags were supplied, which were hung from 1.5 meter white indoor flagpoles complete with bespoke designed brackets enabling you to walk underneath them. The idea concerning the flagpoles arose out of the schools ethos and a desire to promote languages and the diversity of cultures in the school, currently they are building strong links with schools in countries such as Kenya, South Africa and Japan. The flags supplied were flag of France, flag of Spain, Union Jack flag, Bangladesh flag, South African flag, Iraq flag, China flag, Japan flag, Indian flag, Pakistan flag, Afghanistan flag, Kenya flag and the European Union flag.
Flagpole Express design and fabricate many of their own systems, enabling them to offer a more flexible service than other suppliers.